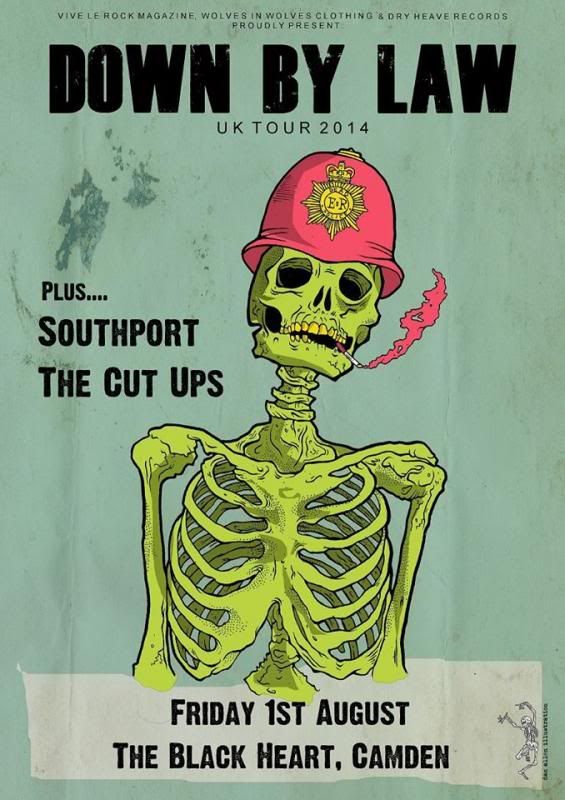 BACK IN THE UK FOR THE FIRST TIME IN OVER TEN YEARS!
DOWN BY LAW
Formed in 1989,Down By Law have released eight full length albums, countless singles and have toured the globe several times over. After a hiatus between 2003 to 2009 the band re-grouped, now they're back tour the UK for the first time in a decade in support of their new mini album 'Revolution Time'.
Frontman Dave Smalley is a punk rock icon. He had been a pioneer of the hard-core punk movement playing in such seminal bands as Boston's DYS and Dag Nasty in Washington, D.C. Later, as the dynamic frontman to the band ALL, Smalley gained an even greater legion of fans after two albums and relentless touring. Smalley started Down By Law with their first release coming out in 1991, as a project band--a group of revolving musicians to get together to record or tour, but nothing permanent. Guitarist and song writer Sam Williams was in Florida punk bands Balance & Slap of Reality and joined up with Smalley in 1994. This undeniable pedigree has earned them maximum respect from the people who know best...their fans. Between them and their song-writing prowess, many popular acts cite them as an influence to their sound. Three decades later Down By Law are still going strong, a testament to both them and their fans.
www.facebook.com/pages/Down-By-Law/299681359888
SOUTHPORT
Formed in the late 90s by original SNUFF guitarist and singer Simon Wells. Not many people probably expected to ever see a follow up to the bands "NOTHING IS EASY" debut from 2001 – but, an almighty 8 years later in 2009, they unleashed "ARMCHAIR SUPPORTERS" on an un-expecting public which they followed up in 2012 with their finest hour to date "SOUTHERN SOUL". One of the finest melodic punk bands the UK has ever produced, period.
www.facebook.com/SouthportTheBand
THE CUT UPS
The Cut Ups are a DIY, counter-cultural punk rock band from Exeter, UK. Formed in December 23rd, 2004, and they've made 3 LPs and one split 7" so far - "Paris Street In Ruins" came out in 2006, "The High and Mighty" was released in 2009, as was the split with The Arteries, and "Building Bridges, Starting Here" appeared in 2012. They've played in bands including Annalise, Kids Return, Sauna Youth, The Dead City Stereo, Shoe and Brothers. Their records are released by Household Name Records. They've recorded at Maida Vale for BBC Radio One, toured all over Europe and once spent a fortnight as Franz Nicolay's backing band!
https://www.facebook.com/thecutups
Doors 7pm. Tickets £12.50 advance, £15 on the door
RSVP here :
https://www.facebook.com/events/260078584179331/
Advance tickets for £12.50 available from here :
http://dryheaverecords.limitedrun.com/products/528353-down-by-law-southport-guests-black-heart-fri-1st-august
OR All Ages Records in Camden